Professional Liability Coverage
---
ChiroFutures RPG offers a quality, comprehensive, competitive professional liability policy backed by a top- rated, AM Best A+ rated insurer, Great Divide Insurance Company, a subsidiary of the Nautilus Insurance Company. Our malpractice program is designed to offer broader protection and defense coverage than is currently available. Coverages for higher limits of regulatory board defense, Medicare/ Medicaid billing error defense, information privacy wrongful act, and peer review committee defense are all included automatically in the policy form. Highlights of the program include:
Broad Protection Created for Your Unique Needs
True Consent to Settle gives you critical control over claims settlements.
Investigative & Defense costs are outside the limits, offering you the maximum lawsuit protection.
No sub-limit on the defense of false allegations against you for patient boundary/sexual misconduct violations. Defense ends only upon a final adjudication of an actual violation.
$50,000 in Licensure/Regulatory Board Defense Protection included at no charge. An attorney will be hired to work with you and prepare a defense.
$50,000 in Peer Review Committee Investigation & Defense.
$10,000 Information Privacy Wrongful Act Defense & Settlement Coverage.
$10,000 Healthplan and Medicare/Medicaid Billing Error Defense Coverage.
$ 5,000 Patient or Business Invitee Medical Payments.
$ 2,500 Deposition Assistance to retain an attorney to go with you when called to a deposition.
Optional Cyber Liability Protection – includes $25,000 for Media Liability, $25,000 for Regulatory Privacy Proceedings, Fines & Penalties and more
Affordable Coverage with Customized Pricing
Chiropractors classified based on your practice methods: You will pay less if your practice style carries less risk.
Add coverage for a dietician, acupuncturist or massage therapist that work for you at a nominal charge.
75% discount for New Doctors.
Claim-free credits start at 3 years loss-free & can save you up to 20%
Discounts for qualifying Risk Management courses up to 10%.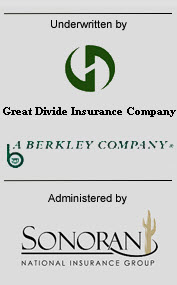 Great Divide Insurance Company, a subsidiary company of Nautilus Insurance Company, is rated A+ (Superior) by A.M. Best Company, Inc. Great Divide and Nautilus are proud member companies of W. R. Berkley Corporation, recognized as one of the most respected names in the property casualty insurance industry.
Our administrator, Sonoran National, combines more than 150 years of experience in the insurance industry. The Sonoran team includes specialists in medical malpractice underwriting, operations management and policyholder service.